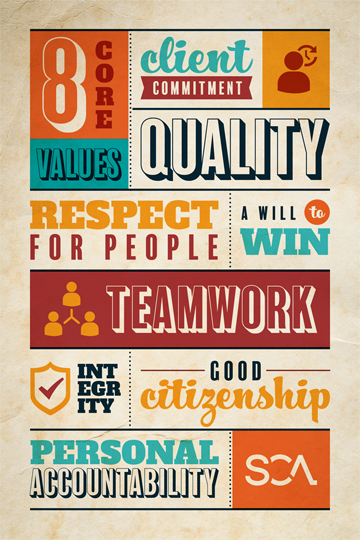 Client Commitment We develop relationships that make a positive difference in our clients' lives.
Quality We provide outstanding products and unsurpassed service that deliver premium value to our clients.
Integrity We uphold the highest standards of integrity in all our actions.
Teamwork We work together, across boundaries, to meet the needs of our clients and to help the company win.
Respect for People We value our people, encourage their development and reward their performance.
Good Citizenship We are good citizens in the communities in which we live and work.
A Will to Win We exhibit a strong will to win in the marketplace and in every aspect of our business.
Personal Accountability We are personally accountable for delivering on our commitments.
OUR BEGINNINGS
Southern California Appraisal company was founded in 1979 out of the home garage of entrepreneurially-minded husband and wife Tim and Paula Davis. The idea was simple: apply a level of customer service and innovation to the claim assignment handling process that surpasses even the loftiest of expectations set by their clients. It was this simple but proven concept that laid the basis for the company's incredible success.

As the Davis' reputation grew, so did their footprint. By 1995, as demand for their services grew throughout the state of California, the company was rebranded as SCA Appraisal Company to better reflect its expanded capabilities.

That's was only the beginning though.

SCA's accepted its first requests for its services outside of the state of California in 1997, growing into the neighboring states of Nevada and Arizona. The company steadily grew from there into a nationwide provider of appraisal services, one built on more than 40 years of combining the best people with the leading technology, and delivering the highest quality and value to every client, every day, regardless of the nature of the claim.

Today, SCA remains family-owned - the largest family-owned and operated franchise appraisal company in the nation - and still follows the ideals of outstanding client service set forth by Tim and Paula back in that garage in 1979. SCA employs more than 100 professionals across the US to assist with rapid and accurate claims management and also manages a nationwide network of adjusters who specialize in personal automobile, specialty vehicle, or personal and commercial property damage.

Insurance carriers trust SCA because they know they will always receive a high level of customer service and policyholder satisfaction. And with millions of claims handled in SCA's four-decade history, carriers trust SCA to help them avoid unnecessary costs by handling every claim, every time, with unparalleled accuracy and a commitment to doing things the right way.


The SCA Mission Statement
"To exceed expectations of our clients as related to claim assignment handling through consistent teamwork, innovation and customer service."
- Tim Davis Sr., CEO
By focusing on this mission and adhering to our Core Values, we have found the continued success upon which our business has been built for more than 40 years. All our activities and decisions are based on and guided by the Core Values.
Our Numbers Speak to Our Experience
Our Clients Speak to Our Service
Net Promoter Score
How likely is it that you would recommend SCA Appraisal Company to a friend or colleague?